DEVELOPING THE SOLUTION - VISUAL DESIGN
With the app features and flow in place, the next challenge was to apply newly learned principles on typography, colour, shapes, iconography and forms to our screen design. This was combined with an understanding of the app's brand philosophy and usability.
BUILDING A BRAND PERSONALITY
Building an overarching brand personality was key to all subsequent design decisions.
The user goal in the app is to connect with new friends based on interests and preferences. Through discussions with Irene as well as further research using a brand positioning framework, I honed in on the key attributes of my app's brand personality:
Friendly and warm — Most of us have been there right? New to a city, school or neighbourhood and looking to meet other similar-minded people. As one-to-one connections were a key attribute of the app, it had to have a friendly and warm tone.
Intuitive — A simple and intuitive approach with the user's goal in mind would help ensure the app's usability.
Urban — The app's visual design had to reflect the user's urban lifestyle.
BRAND AFFINITIES
To further flesh out my brand's perception and personality, I looked at inspiration out there as reference points.
Reese Witherspoon, Winona Ryder, Hugh Laurie — friendly, warm and great conversationalists (I think!)
Mini Cooper — urban and convenient

MOOD BOARD
Once I had a good idea of my brand's personality, I began developing a visual style that would communicate the brand attributes and bring out the user's emotional experience.
I began pulling together a mood board to help me visualise the user's feelings, moods and behaviour. It also provided inspiration for various visual components including a colour scheme.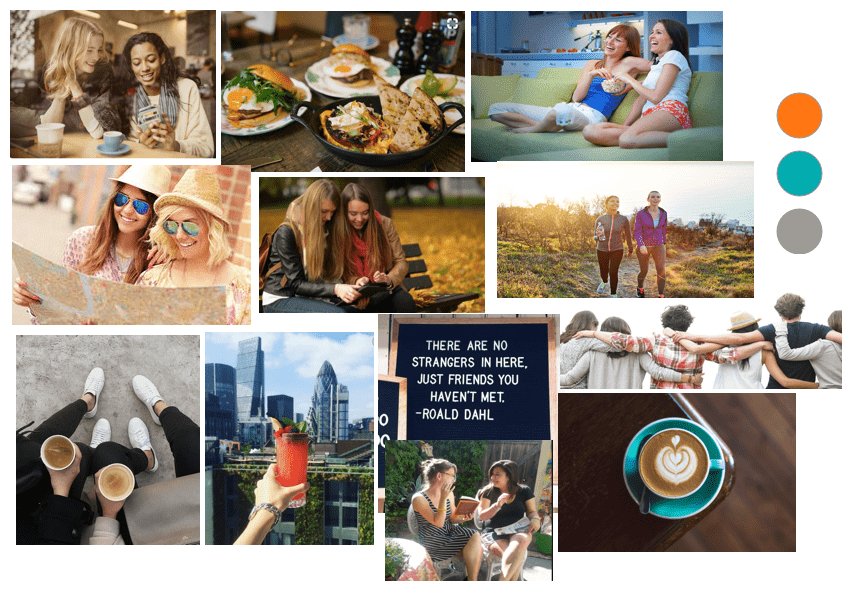 I picked out colours from my mood board that communicated the brand's personality and tested them out on some low-fidelity screen sketches to see how they came together.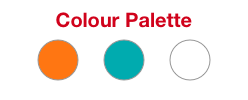 STYLE GUIDE
As we began understanding the fundamentals of design language, I began researching style guides published by companies like Google, AirBnB and BBC.
I pulled together a style guide for the Friend City app which helped me ensure visual consistency and structure in the visual design across the screens.
Components of the style guide included typography (and fonts), colours, buttons, input fields, logo, alignment and layout.

SCREEN MOCK-UPS
Next, I digitised 3 of my initial screen prototypes and moved these from low-fidelity to mid- and finally high-fidelity.
I user tested these at every stage and iterated my designs so ensure it reflected the brand personality while being usable and readable.
FIRST ITERATION
I experimented with a few things for my first high-fidelity mockup, which included:
A friendly upbeat image for the home screen and a simple white background for the others to ensure the profile details stood out
Droid Sans typeface for a structured rounded look
A "layered" look for the individual profile page with the background matches faded back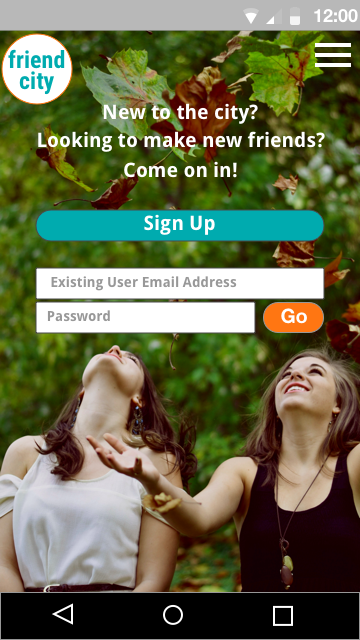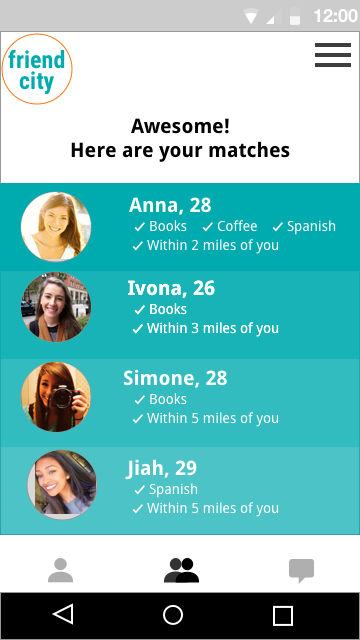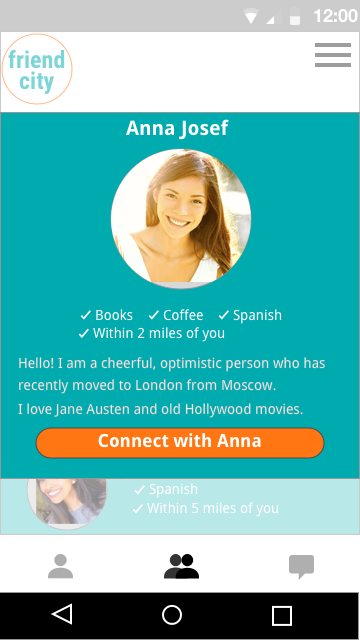 Feedback on the above was mixed:
"I love the first image! So hopeful and warm."
"The other two screens feel rather cold."
The font looks chunky
I tested a few more images for the second and third screens to mirror the warm emotion from the first. I also experimented with other typefaces and layouts and updated the style guide.
SECOND ITERATION
I switched to the Roboto Condensed typeface for my next iteration. Other changes included background image, transparency variations, button placements, etc.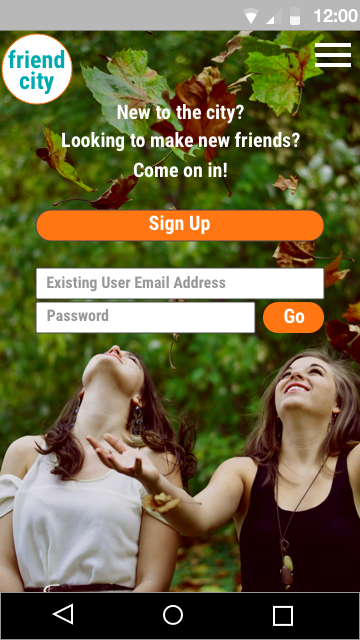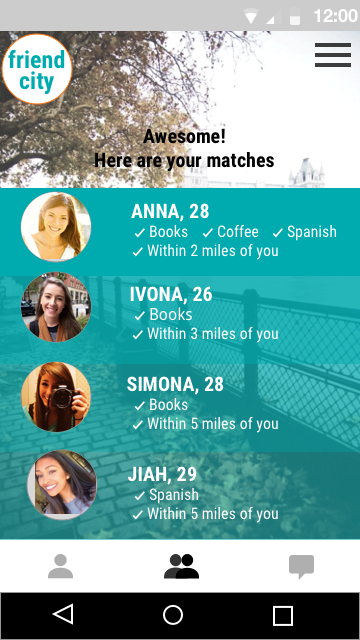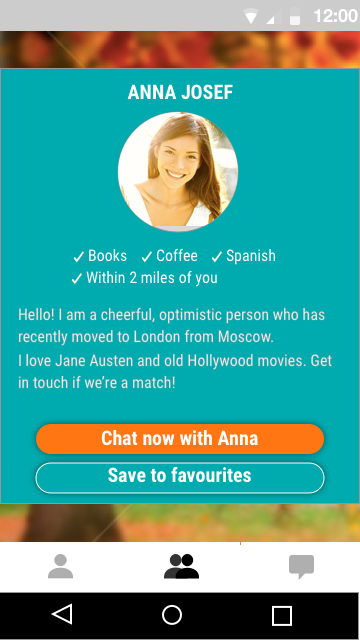 The feedback on these was more favourable but the background image for the 2 latter screens was still perceived as being cold. I continued tweaking and testing both the visual impact and screen readability and layout.
FINAL MOCK-UPS
I made further changes in my next iteration:
Changes to the login screen to reduce clutter
A "warmer" background image for the next 2 screens with orange/red tones
Amended buttons in the third screen with shadows to remove the slight "blurring" effect from the orange button on teal background.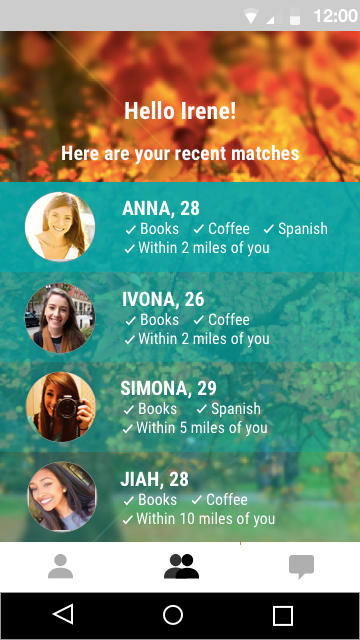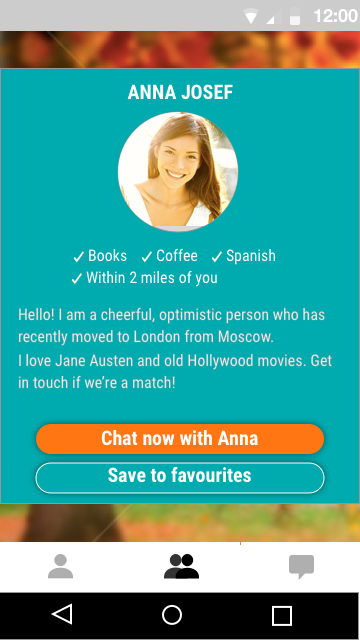 I tested the final screens on a mobile phone and the user feedback was largely positive. Most people felt the design communicated the friendly, urban brand personality.